Wizards
Who they are and what you can do about it
The wizards are the people who run the game of TinyTIM and make sure that the place doesn't fall over and explode under it's own weight. Also, they are the persons responsible for code changes, db purging, assistance in all manners of life and love, and hosting TIM Parties. They are generally well-read.

TinyTIM is run by the "Council of Seven":
All operations are overseen by TIM himself, long may he connect.

Contacting any of these individuals is a sure-fire way to get those extra pennies you need, that little bit of elusive information, or A Donut.
---
Here's the near-famous painting of the TIM Wizards at the Last Brunch. A black-and-white version of this shirt was released by Sketch and sold to about 60 TIMsters. You never know what will be on the next TIM shirt! Click on the wizards to see their pages. It's important to note that since this image includes retired wizards, you may or may not see a page for them.
---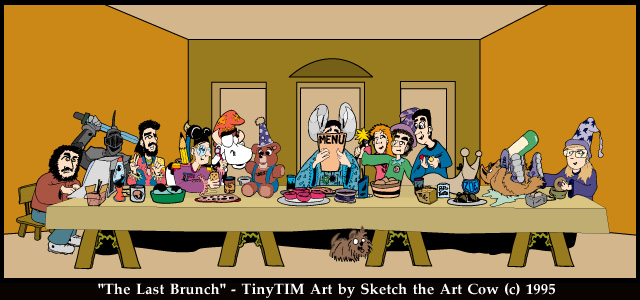 ---
---
Text by Sketch the Art Cow. HTML aid provided by Empedocles the Ash Ock.